Voici un topic pour voire les modeles outres atlantique, c'est toujours un plaisir de voir de belles annonces avec des photos qui font rêver .
Lorsque l'on poste un annonce le mieux est de poster quelques photos avec le lien car les lien des annonces de restent pas valide indéfiniment .
Pour commencer une 300SEL 4.5 de 1972 pour seulement 12000 $ !
http://cgi.ebay.com/ebaymotors/Mercedes-Benz-S-Class-300SEL-4-5-34k-MILES-RUST-FREE-Sunroof-Leather-hi-optioned-excellent-condition-/251021373618?pt=US_Cars_Trucks&hash=item3a720a30b2
From a Long Island estate. Bought from the son of the original purchaser. Always garage-stored. Off the road from 1984-2009. A documented 34,000 mile car.

Stunning, special-ordered, two-tone Dunkelrot (Dark Red) over Astral Silver, with Dark Red leather interior. Burl Wood accents, PS, PDB, AC, sunroof, floor shift 4-speed automatic, rear door lights, rear reading lights, rear defrost, tinted glass, town and country dual horns, Ivory steering wheel, Becker Europa/Cassette with electric antenna, Emergency Suspension Buffer kit, wheel chocks, first aid kit, warning triangle.

This is a very special W109 Mercedes. The car comes with an incredible amount of original documentation, including full glovebox packet, BOTH oval 1972 German tourist plates and their TUV documents, factory build cards, the original Certi-Card, two sets of original keys, import documents, an original sales contract from Mercedes-Benz Manhattan, maps, brochures and menus documenting the trip taken around Europe in 1972, when the car was delivered as Tourist Delivery and shipped back to NYC aboard the SS France. Also has original spare, jack, wheel chocks, nearly full tool roll, and the optional and very rare front and rear emergency suspension buffers. She also comes with stacks of service records.

The car was not the original family's daily driver, and truly has only covered 34,000 miles since purchased in 1972. It was retired to seasonal use into an enclosed garage in 1984, passing from the original purchaser to his son, and was then driven roughly twice a year (20 miles to the beach, I was told, and there's sand in the trunk to prove it!) until I purchased the car in 2009 and shipped her to CA for re-commisioning as a driver.

The 300SEL drives like a new Mercedes-Benz. it starts with one turn of the key, runs smooth and cool, and all convenience functions operate perfectly. The lovely Ivory steering wheel slips thorough your fingers, as you navigate the Mercedes through city traffic- throttle response is instant and gratifying. Given any opportunity, the big V8 will thrust you into the lead of any lane. The air suspension is truly a marvel of it's time- the 300SEL shares a garage with my restored '71 Citroen DS21 Pallas (yes, I like innovative suspension cars..) and believe me, the Mercedes ride is years ahead of the iconic Citroen. The suspension functions 100% and will stay up for at least 2 weeks (that's the longest I have left it unused.) The car includes the rare and valuable suspension shipping inserts and I will install these before shipping, per the owner's manual instructions.

If not for the classic details such as the vent windows, burlwood trim around the windshield, all the windows and dash, and the wonderful scent of old Mercedes leather, you wouldn't know you were in a 40 year old car. The sunroof is enormous, and springs open with the touch of the dash switch- The AC has been charged with Freeze 12 and is blowing cold as of this writing. This Mercedes was built for Grand Touring, and does not disappoint.

The Becker Europa AM/FM Stereo radio works as new as does it's electric antenna, and cassette option (perfect for iPod interface.)

The interior is as close to perfect as you could hope to find in a 40 year old car. the leather is soft and supple and the carpets are without wear, protected by original mats. I recently went through the car and cleaned and conditioned the leather. The wood is perfect, and there is lots of it- dash is perfect, headliner, hat tray- perfect. Check out the nets on the back of the seats. Even the 'seat belt' light works (I disconnected the buzzer under the dash!)

The paint is not as perfect as the rest of the car. The clear is failing. It looks great from 10ft, is fine for 'driver quality' and still gets many compliments. But many years of storage are showing on the paint, Perhaps there were boxes stored on the car, there are some scratches, and stone chips. To live up to the rest of the car's condition, the paint should be re-done.

There is no visible rust or rot on the 300SEL. All body panels and floor pans, rockers, suspension- pristine. Years of garage storage and strictly seasonal use have kept rust and corrosion far away. Completely solid.

As she is, this is a perfect driver, with low mileage and a distinct pedigree, veteran of many a lovely, sunny California sunday drive! Whether you take this rare Mercedes to the next level, or enjoy her as-is, as I have for almost 3 years, I will miss her terribly and am only parting with her to make room for a Pagoda SL project.

Please ask any questions or make any comments, Please be serious, as I am. The terms are, direct bank deposit (B of A, or Wells Fargo) within 3 days of hammer down of the auction. Any 0 feedback bidders, please contact me before bidding or I will cancel and block. Checks are fine, I will hold checks until cleared, then I'll overnight title (clean, CA, in my name) and bill of sale. Cash is best. Drive her home or ship, and I wlll help with the shipping any way I can (I use DAS and have no negative experience with them in well over a dozen cars shipped) Again, this is a special car that is waiting for a special owner. Please love this 300SEL as much as I have!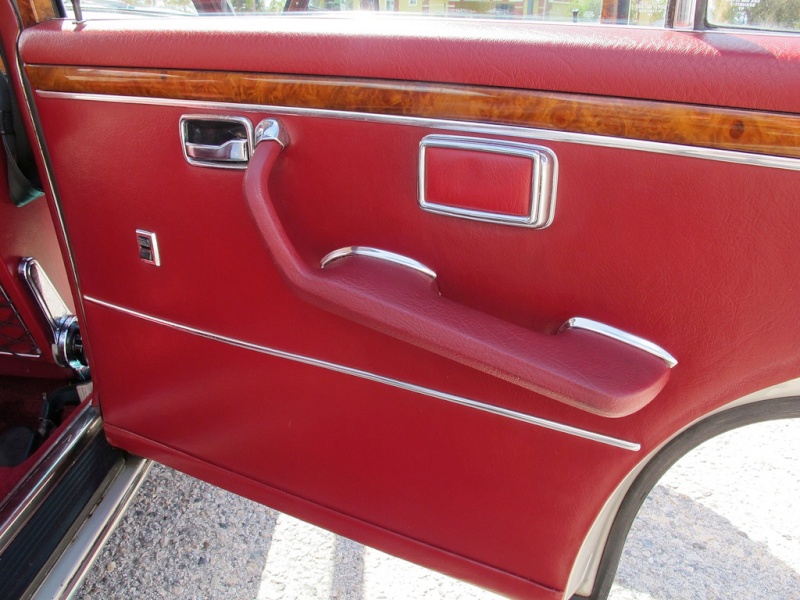 Des finitions que l'on ne retrouvera plus jamais dans les classes S d'après ...